---
SwitchGlass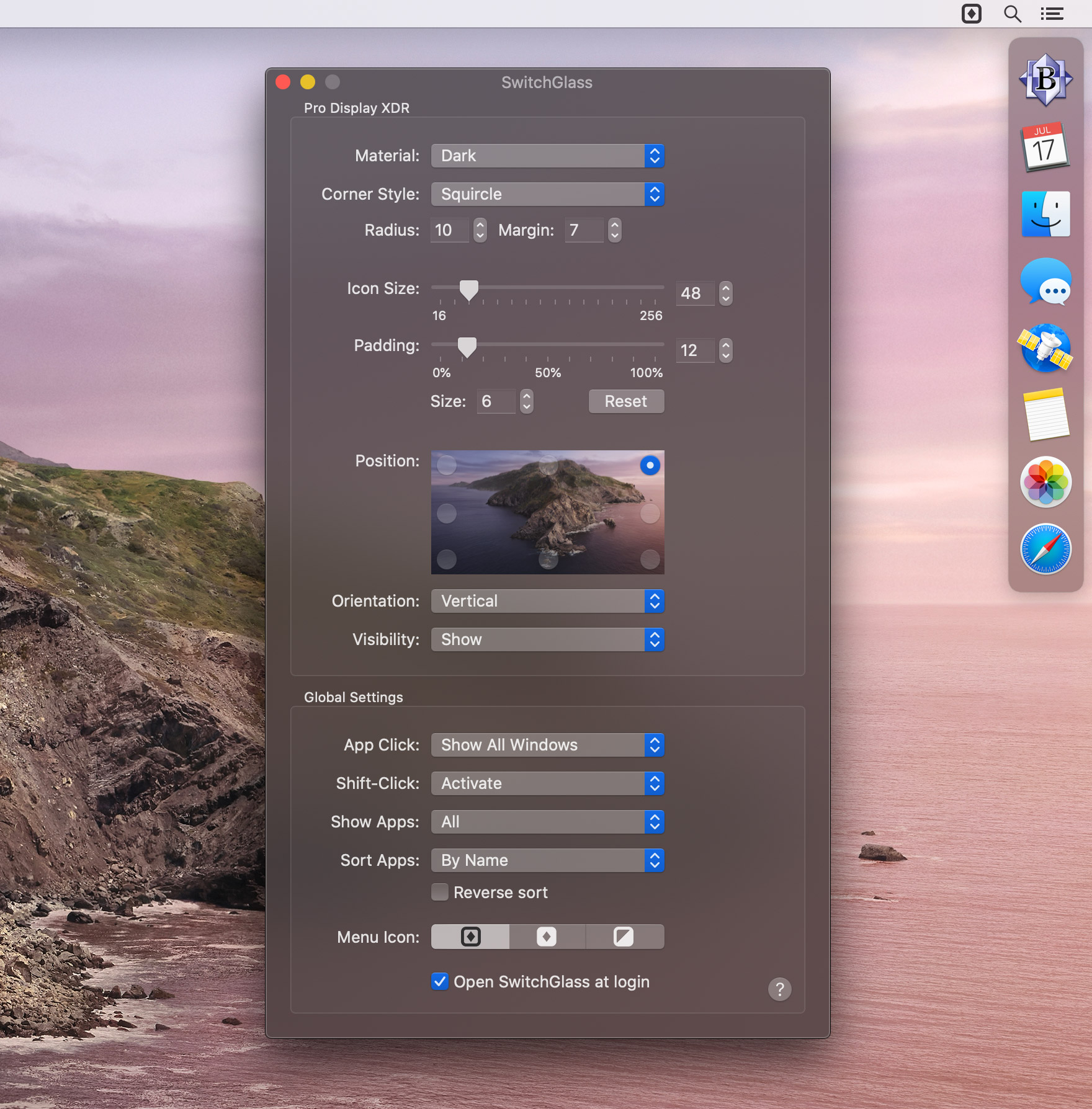 When DragThing was finally left behind—after 24 years of service—by macOS Catalina's lack of support for 32-bit apps, I knew I'd miss many of its features. I missed its (optional) modification of the Mac's window-layering policy so much that I made my first Mac app, Front and Center, to replace it. My second Mac app, SwitchGlass, also replaces a feature I miss from DragThing. (Thank you, James Thomson, for unwittingly kickstarting my Mac development efforts.)
SwitchGlass adds a dedicated application switcher to your Mac. You can customize its appearance, size, and position on each attached display, including hiding it on selected displays. It pairs perfectly with Front and Center, supporting both click and Shift-click actions on app icons in the floating app switcher. SwitchGlass is available for $4.99 on the Mac App Store. To learn more, please read the FAQ.
I wrote SwitchGlass and Front and Center to satisfy my own needs. I run both apps all day, every day on my Mac. I've been a professional programmer for almost 25 years, but until this year, I'd never written anything for my favorite platform. It's immensely satisfying to be able to scratch my own itch. And it's even more satisfying to learn that there are other people out there who also appreciate my strange little apps.
Thanks to everyone who has purchased one of my apps. And special thanks to Brad Ellis for creating the beautiful SwitchGlass icon.
---
P.S. - I may not be the only one who misses DragThing's application switcher. The phenomenally powerful Mac automation app Keyboard Maestro recently added a similar feature. In fact, SwitchGlass's default appearance is inspired by Keyboard Maestro's app switcher. If you want a hugely capable Mac automation tool that just happens to have an (optional) app switcher palette built in, check out Keyboard Maestro. I highly recommend it.
---